The 5 Best Free Superheroes PC Games You Can Play in 2016.



It's been a Hell of a few years for superheroes in general. If it isn't Batman, it's The Avengers, or Superman, or another God awful attempt at a good Spiderman movie. Is one decent Spider Man flick too much to ask for? 
The return of the superhero to the mainstream in popular culture took much of society by surprise, but as we gamers are more than aware, superhero video games are just part and parcel of our everyday gaming landscape. They always have been, and always will be.  
And all that thinking got me in the mood for donning some skin tight spandex myself, getting out some gadgets, and heading out into the night.
1. Crysis 2
It's 2023, terrifying alien invaders stalk the New York City streets. Only you can prevail, wielding the super soldier enhancements of the Nanosuit 2. Take on multiple enemies with Armour mode, mince them with heavy weapons or squash them by kicking cars. Get to the action quickly, then power-jump, ledge-grab and slide round the environment with amazing agility. Play this exhilarating game & get mesmerized because this will blow your mind.
Operating System: Windows XP, Vista or latest service pack.
Processor: AMD Athlon 64 x2 2Ghz or better.
Memory: 2Gb (Vista requires 3Gb)
Hard disk space: 12GB
Video: NVidia 8800GT with 512Mb RAM, ATI 3850HD with 512Mb RAM
Sound: DirectX Compatible Sound Card.
DirectX  : 10 or greater 
2. DC Universe Online
Who wouldn't want to play a free, fun multiplayer action game set in the DC Universe? The story is great and gameplay is quite enjoyable in DC Universe Online. It isn't completely trouble-free though as there are more than a few bugs that mar the experience. The free aspect of it is great but the game tends to wear out its welcome if you don't pay to level up your character because after a point, gaining new skills and experience is a chore.
Download DC Universe Online
3. Marvel Heroes 2016
This game was released long after DC Universe Online, and it is the better of the two. Marvel Heroes 2016 is a massively multiplayer online action role-playing game with an interesting plotline and enjoyable gameplay. Some character packs are paid but the free game is a lot of fun in its own right. Fun fact: the story of Marvel Heroes 2016 is crafted by comic book writer Brian Michael Bendis, who is also responsible for the excellent Ultimate Spider-Man, New Avengers, House of M, Secret Invasion, and Avengers vs X-Men, among others.
Download Marvel Heroes 2016

4. INJUSTICE: GODS AMONG US. ULTIMATE EDITION.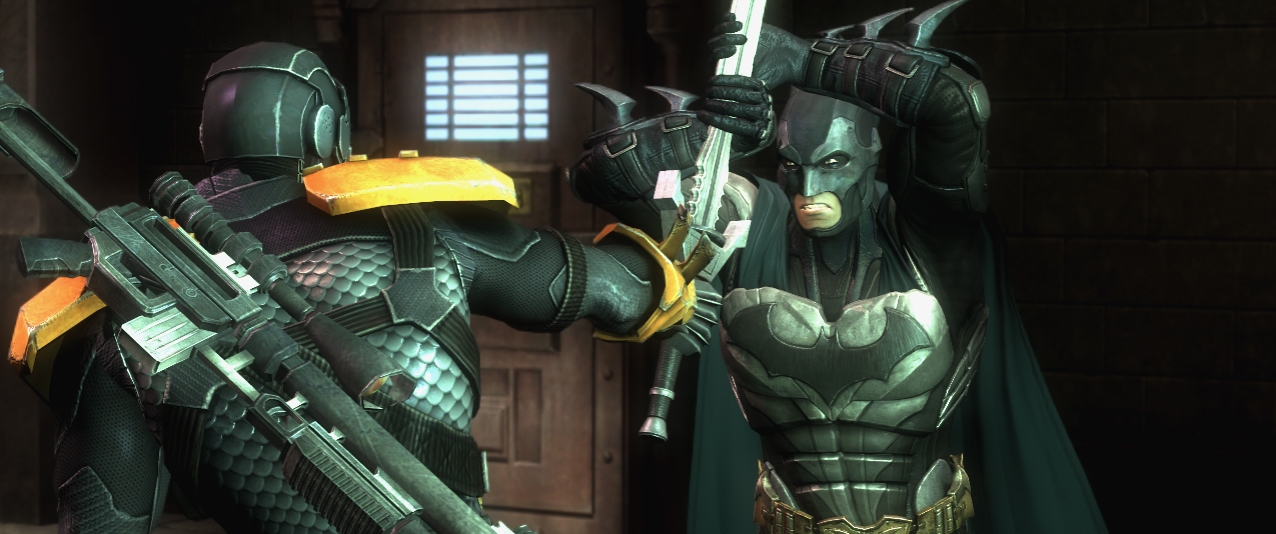 Batman doing it wrong.
I wasn't even thinking about fighting games when I started this list, and then I remembered this little gem. Think Mortal Kombat but with the best characters from the DC Universe instead of Sub-Zero, because that's what this is. It's good fun, and it is nice to battle it out with some of your favourite superheroes and watch them knocking each other about all over the screen.
But there in also lies the rub. The problem with this sort of fighting game is the requirement to suspend your belief; because in the end you just know Superman and the Green Lantern would destroy everyone else utterly in just a few minutes.  It's one thing to watch Superman pick Lex Luthor up and throw him through a building, but when a mortal hero, like Batman then does it to Superman, it does feel, well, a bit silly.  With that said, it should be noted that Injustice: Gods among us, is a decent fighting game and has a reasonably tight storyline to go along with all the spandex, and is great choice for letting off steam at the end of the day. 
The ultimate edition of the game is what it says it is, adding more costumes, more story, more characters and a much better online matchmaking experience, which was quite widely derided when the game was first released. There's also the added bonus that this looks better on the PC than on any other platform.
Of course it does. Everything looks better on PC's. Chalk one up to the mouse using Overlords Of Gaming.
5. Darksiders
Darksiders II follows the exploits of Death, one of the four horsemen of the Apocalypse, in a weaving tale that runs parallel to the events in the original Darksiders game. This epic journey propels Death through various light and dark realms as he tries to redeem hid brother War, the horsemen who was blamed for prematurely starting the Apocalypse in Darksiders.
Operating System: Windows XP, Vista or latest service pack.
Processor: AMD Athlon 64 x2 2Ghz or better.
Memory: 1Gb (Vista requires 3Gb)
Hard disk space: 12GB
Video: NVidia 8800GT with 512Mb RAM, ATI 3850HD with 512Mb RAM
Sound: DirectX Compatible Sound Card.
DirectX : 9.0c or greater